I'm late (as I am for
everything.
I need to have a
Late to the Party
category for the blog) jumping on the
Dr. Who
bandwagon. Or rather, Tardis-Wagon. Band-Tardis?
I finally started watching. I'm on Season 5, Eleventh Doctor, Matt Smith. I really struggled through the first/Eccleston season (okay, I know it's not the
first
season of all time and relative dimension but you know what I mean) and I only persevered because my daughters assured me that soon all would be well and better than well.
Well.
It took me awhile because at first I was just so irritated by cheesy effects and slimy monsters. The Daleks drove me batty and I wasn't having much fun with the Cybermen either. Goo and metal? That's all you've got, Universe?
But somewhere around the intersection of David Tennant and Rose, at the corner of Martha and Donna, something clicked. I stopped saying, "Are you sure this will get better? I mean, yeah, I liked that one about Rose and her father, and 'The Empty Child' haunted and touched, but...." and I began to sheepishly murmur, "I think I kind of completely love this show." Sometimes I'd add, "Except when it's slimy. Can we have more time travel, please?" Then River Song would show up, totally out of time-sync, and I'm all, "That's what I'm talkin' about."
I'm still moving slowly through it, as I watch
only when I'm working out
. (Clearly, I don't work out enough.) At any rate, yesterday I watched "Vincent and the Doctor." Yes, I knew I was being emotionally manipulated ...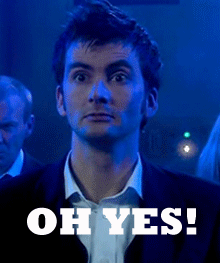 ... but I didn't care one bit.
I began to love Vincent Van Gogh -- when? I can't even remember exactly when it started. I love him the way I love coffee and breathing. He just is, has always been. He was the first artist who spoke to my heart on a level I couldn't articulate. My tattered copy of
Dear Theo: The Autobiography of Vincent Van Gogh
still lives on a bookshelf, having survived
a number of book purges
over the years. I have more
books about Van Gogh
than anyone needs. I didn't see his work in person until I was in my 40s, and I remember the moment vividly. The beauty I had detected in two dimensions -- on posters and in books -- leapt to life, blazing. The strokes, the texture, the color... I couldn't stop the tears. The painting wasn't even a favorite, and it was certainly a sedate one by all standards. Still.
(If you're late to everything, too, and haven't seen the episode, and don't want spoilers, stop reading now....)
Obviously I was fully primed for this episode to touch me and it did, hitting all the right chords -- exploring what is inexplicable about art and beauty, cocking its head to see how an artist experiences the world, eliciting sighs at the picture of lying in a field, holding hands with your best friend and Vincent, looking up at a starry sky, considering how we are connected.
Perhaps the most significant detail for me was the episode's monster. Sometimes, with
Dr. Who
, I think, do we
have
to have a monster? Can't we just time-travel today?
But ... an invisible monster that only Van Gogh could see? As a depression metaphor, it was a brilliant little detail that touched me as Van Gogh touches me: quietly, and with tears. It was the only kind of monster that would or should work with a Vincent episode, and it was the monster that, despite their attempts to cheer and assure him, The Doctor and Amy couldn't fully vanquish either.
I think I kind of completely love this show.
I have to go work out now.